1988 エスケープ・モール // Zadig The Jasp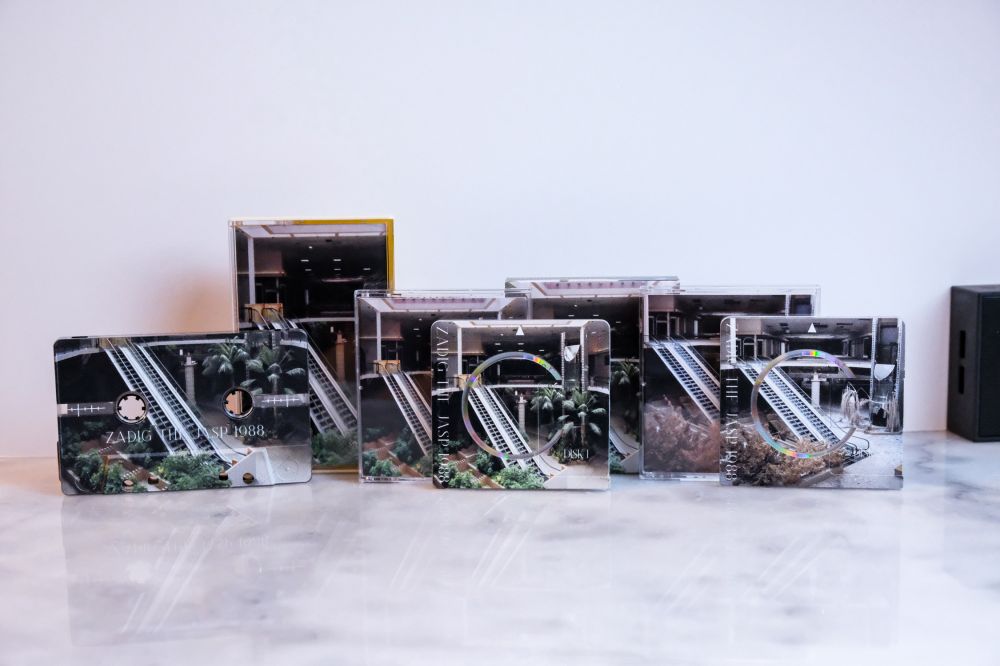 Cassette and Minidisc release
We are in the 80', may be you're alone, but most probably with friends, or your family, it's saturday afternoon, and you are shopping, and you have good time, in a mall, it's a huge area, big halls, nice stairs, full or beautifull stores, plants everywhere, palms, merchandises, friendly vendors, various event, you have a walk through the stores and the halls, maybe you are lost now, this place is so huge.
And in the air, always this background music, leading you to the best stuff to buy, to the best way to spend your money, to make your buying desire persistent.
You are taking a large elevator, strange experience, it is like going to paradise, without any effort, you reach now the second stair. There are many restaurants there, why not having a drink, meeting other friends, take your time here, you feel so good, peaceful and then, make more shopping, there is a lot of choice, this is liberty, liberty to get whatever you want, everything is yours, and what you can't buy at least you can touch, and continue to dream, making plan of what you will buy next time. It is fun, it is pleasant, you are lucky enough to live in this society. It is so comfortable.
But there is something glassy too with all those tile
walls, it is so human, and so inhuman in the same time. You know you can't live there forever, you know you can't sleep there, it is so cold, the ground is so hard, and that sound! Reverbering forever, you get tired, you will get mad if you stay here for a too long time!

How it is in the night, how will it decay when money will disappear, making this paradise useless ? Lost in your thinking, suddenly, you have the feeling that all this is fake, this is not paradise, it is only like a theater, where every actors plays the same piece day after day, year after year, the same ritual, the same fake piece, with fake vendors, fake objects, this is fake live. Touch something, and it will break, like glass. Nothing is real there, you get that it's a theater for modern consumerism, nothing more, and everything become darker, and still this music reverbering again and again, this fake music.

Yes, this album is like the souvenir of a walk in a mall on a saturday afternoon in the 80' with old background jazzy music, it's just smooth and comfortable, human and inhuman, comfortable and glassy, real sensations and fake world.

This is probably the most appreciated work of Zadig The Jasp to date, brillant mallsoft gem, it just catches all that feeling, perfectly balanced between nostalgia and movement, night and day, rise and decay, reality and dreams. Old 70' samples, chosen with attention, just the reverb it needs to drives you into this labyrinthic universe, a virtual mental space that recreate so well the feeling of being lost in a huge mall, at this period of time where the new millennium was a kind of perfection to reach, from 1988, to 2000.

Underwater Computing_ 12.11.2020

1988 エスケープ・モール

For you

promo video : www.youtube.com/watch?v=MRNdzCl_wkY

UC_35
credits